"LIGHTLY SALTED" COLLECTOR PREVIEW
Show Opens Saturday, NOV 5th 5-8pm at Archimedes Gallery, Cannon Beach, OR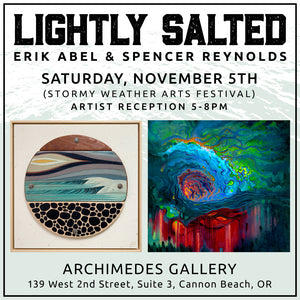 Welcome to the Collector Preview. This is a chance for you to purchase Abel's art before the show opens to the public. Lightly Salted will be Abel and Reynolds first 2-person show together. The artists both draw deep inspiration from the ocean and specific PNW elements. The show coincides with the anuual Stormy Weather Arts Festival in Cannon Beach, Nov 4-6. Both artist will be in attendance for the opening reception.
Click on an image for title, details and price and availability. Pieces can be purchased directly through Archimedes Gallery by contacting the gallery via phone or email to arrange payment & shipping/pick up.
Scroll all the way to the bottom for a little more info about some of the pieces.
About the art...
• Woody the Shark was definitely a challenging and time consuming art piece. I've really been enjoying the process of designing, planning and constructing these sculptural wood pieces lately. Woody has a secret magnetic door that lifts up to reveal a fossilized shark tooth. Adding this mechanical, viewer participation into the art is something new for me and I feel it adds such a cool element. The fossil tooth also gives it a connection with the past like an ancient treasure.
• Rinse Cycle 1 & 2 also have some history to them. The wood for the circles originally came from a really old house in Portland, OR. I had cut out these circles and painted some abstract designs on them for an art show in 2007 in LA. They made there way back up to oregon and were in storage for over a decade. I sanded off the old art and gave them a new life for this show. They have some cool old metal hardware remaining from the previous art and are mounted to a wood panel with a splattery warm off-white background and include our Natural wood float frame.
• The Bear, Cougar and Wolf head pieces are an idea I've been meaning to pursue for a while now and this was finally a good chance to see it through. They are laser etched and cut out of maple ply and mounted to a painted wood panel with a mixed-media painited background. We finished them off with a stained hemlock frame using copper nails.
There are 5 of each of the 3 animal heads, and each animal is on 1 of 5 colored backgrounds. So there is only one of each animal on any given color.
I hope you find something you want to live with!
Cheers, Abel